Concerns Over DIV1 Virus and Its Impact
The Ministry of Agriculture and Rural Development (MARD) has recently urged for enhanced management of seafood transportation across the border, with a specific focus on preventing the spread of a deadly virus known as Decapod iridescent virus 1 (DIV1 virus) from China to Vietnam.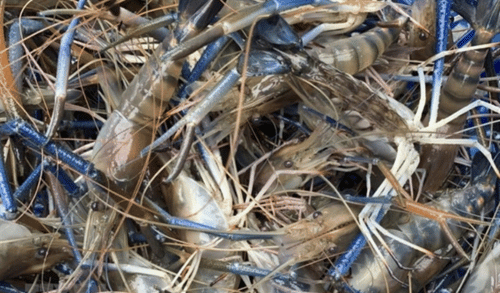 The ministry has called upon the National Steering Committee Against Smuggling, Trade Fraud and Counterfeiting Goods (National Steering Committee 389) and several northern provinces to intensify control measures for shrimp and aquaculture feed.
The Threat of DIV1 Virus
According to Deputy Minister of MARD, Phùng Đức Tiến, the DIV1 virus has caused significant damage to China's shrimp farms in recent years. The virus was first identified in 2014, affecting various species of crustaceans such as red claw crayfish, white-legged shrimp, and giant freshwater prawn in different Chinese provinces.
It resurfaced in Guangdong Province in February of this year, infecting a substantial portion of the province's shrimp farms. The virus has shown the ability to infect shrimps at all stages of growth, posing a threat to saltwater, brackish, and freshwater shrimps alike.
Proactive Measures by the Ministry
Although there have been no reports of DIV1 virus infection in Vietnam thus far, MARD aims to take preemptive action to prevent the virus from entering the country. To achieve this, the ministry has requested the cooperation of the National Steering Committee 389 and its sub-committees in border provinces to combat the smuggling of baby shrimp, prawn, and aquaculture feed.
Moreover, the People's Committees of northern provinces sharing the border with China have been called upon to collaborate with relevant agencies in strict control and monitoring of transportation activities involving these products.
Strengthening Surveillance and Enforcement
To effectively address the situation, MARD has instructed public security, border guards, and market management forces to intensify their monitoring efforts. Their aim is to prevent the illegal transport of baby shrimp, prawn, and aquaculture feed across borders for consumption within Vietnam. Any violations of regulations should be dealt with firmly and in accordance with state laws.
In conclusion, MARD's proactive measures to strengthen the management of seafood transportation across the border reflect the growing concerns regarding the DIV1 virus and its potential impact on Vietnam's aquaculture industry. By increasing surveillance and enforcement activities, the ministry aims to prevent the entry and spread of the virus, safeguarding the country's shrimp farms and maintaining the integrity of Vietnam's aquatic ecosystem.