Yellowfin Tuna Steak is a gourmet delight that stands as a testament to the diverse and delectable world of seafood. Praised for its exquisite taste and exceptional health benefits, it has secured its place as a preferred choice among seafood enthusiasts. Nghi Son Foods Group, a prominent name in the industry, proudly presents this gastronomic masterpiece, sourced from their two world-class Yellowfin Tuna processing factories in Vietnam. Let's embark on a culinary journey to discover the essence of Yellowfin Tuna Steak.
What is Yellowfin Tuna Steak?
Found in warm seas, tuna is extensively fished commercially, and as a result of overfishing, stocks of some tuna species, such as the southern bluefin tuna, are close to extinction. Populations of yellowfin tuna are regarded by the Marine Conservation Society to be in comparatively good shape, and that's the species we source at Fresh Fish Daily. It comes from the Indian Ocean, is certified sashimi grade and is histamine analysed.
Yellowfin tuna, Thunnus albacares, can weigh as much as 175kg and is distinguished by its bright yellow fins and finlets. The meat is deep red, has a sweet, mild flavour and a dense, firm texture comparable to beef. A tuna steak is cut perpendicular to the spine.
Tuna steaks might have become more popular on menus since the later years of the 20th century but the fish has been highly prized since ancient times. The Phoenicians used to salt and smoke it, while in the Middle Ages tuna was pickled then cut up, roasted or fried in olive oil, salted and strongly spiced.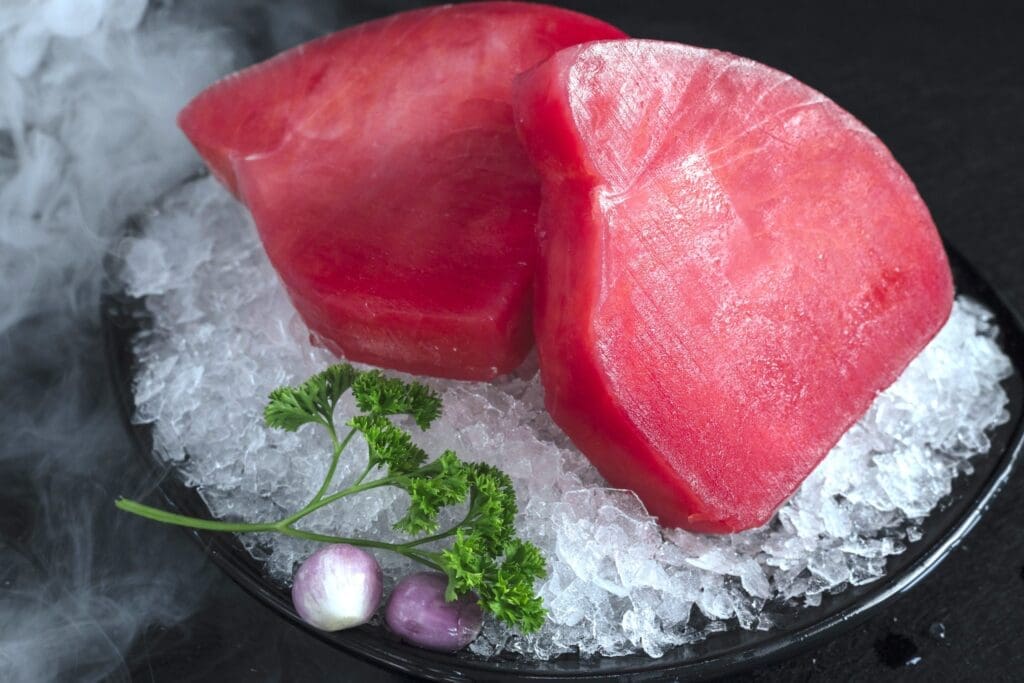 Yellowfin Tuna Steak is a premium seafood cut that derives its exceptional qualities from the Yellowfin Tuna, a species revered for its stunning physical appearance and remarkable flavor profile. This steak is meticulously prepared and expertly cut to ensure its top-notch quality and consistency, making it an outstanding choice for discerning palates.
Characteristics that Set Yellowfin Tuna Steak Apart
One of the key attributes that distinguishes Yellowfin Tuna Steak is its unique flavor profile and mouthwatering texture. This steak boasts a rich, meaty flavor that is both robust and distinctive, creating a sensory experience like no other. Its texture is another standout feature, characterized by a firm, yet tender consistency that lends itself beautifully to various culinary applications.
Moreover, the vibrant pink to deep red coloration of Yellowfin Tuna Steak is a visual treat, accentuated by delicate marbling that adds a touch of elegance. This combination of visual appeal and taste makes it a standout choice for those who seek not just a meal but an exquisite dining experience. The versatility in cooking methods, whether it's seared to perfection, grilled to smoky goodness, or showcased in delicate sushi and sashimi, underscores its adaptability in the kitchen.
Health Benefits of Tuna Steak
Beyond its culinary appeal, Yellowfin Tuna Steak is a powerhouse of nutrition. Packed with high-quality protein, it offers essential amino acids crucial for muscle health and repair. This makes it an excellent choice for those looking to maintain or build lean muscle mass. Furthermore, Yellowfin Tuna Steak is a rich source of heart-healthy omega-3 fatty acids, which have been associated with reducing the risk of cardiovascular diseases. These fatty acids contribute to improved cholesterol levels and help maintain optimal heart function. For those mindful of calorie and fat intake, Yellowfin Tuna Steak is a wise option. It's inherently low in calories and fat, making it suitable for individuals aiming to manage their weight while indulging in delectable flavors. Additionally, this seafood delight is abundant in essential vitamins like the B-complex group and minerals like selenium, promoting overall well-being.
Why Choose Tuna Steak?
The decision to choose Yellowfin Tuna Steak extends beyond its delightful taste and nutritional benefits. Its culinary versatility knows no bounds, allowing for a diverse array of dishes. Whether you're crafting a sophisticated dinner, a quick and healthy lunch, or a sushi masterpiece, Yellowfin Tuna Steak's adaptability in the kitchen shines through. Beyond its culinary merits, Tuna Steak from Nghi Son Foods Group represents a commitment to sustainability and responsible sourcing. By choosing this option, you are not only treating your taste buds but also supporting ethical and eco-friendly fishing practices. Moreover, Yellowfin Tuna Steak aligns with various dietary preferences. Whether you're following a low-carb, high-protein, or keto diet, it accommodates diverse dietary needs, making it a versatile and satisfying choice. The simplicity of preparing and cooking Yellowfin Tuna Steak is another reason to choose it. Whether you're a seasoned chef or a home cook, its ease of preparation ensures that you can enjoy a restaurant-quality meal in the comfort of your own kitchen.
Where to Buy Yellowfin Tuna
Nghi Son Foods Group, a trusted name in the industry, offers a reliable source for premium Yellowfin Tuna Steak. Their commitment to excellence is reflected in their two standard Yellowfin Tuna processing factories located in Vietnam. These state-of-the-art facilities adhere to stringent quality control measures, ensuring that each piece of Tuna Steak meets the highest standards. You have the option to explore Nghi Son Foods Group's offerings online, where you can conveniently browse and select your preferred cuts.
Alternatively, you can visit their physical stores to experience firsthand the freshness and excellence they bring to the table. When you choose Yellowfin Tuna Steak from Nghi Son Foods Group, you're not just selecting a culinary delight; you're opting for quality, sustainability, and a taste experience like no other.
Conclusion
Yellowfin Tuna Steak is a culinary masterpiece that tantalizes the taste buds and nourishes the body. Its distinctive characteristics, coupled with its numerous health benefits, position it as a top choice for seafood connoisseurs. Consider choosing Yellowfin Tuna Steak from Nghi Son Foods Group to relish this exceptional seafood option with confidence and satisfaction. Whether you're a culinary enthusiast or someone seeking a delectable and nutritious meal, Yellowfin Tuna Steak is sure to impress.